Apricot
White bread with chopped apricots and nibbed sugar, a sweet taste ideal as afternoon tea bread.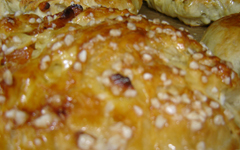 Caraway Sourdough
White dough with the addition of a sourdough production and caraway seed (contains some commercial yeast).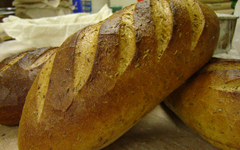 Cheese & Onion
A white bread with a generous amount of mature cheddar cheese and onions topped with more cheese ideal as a savoury snack.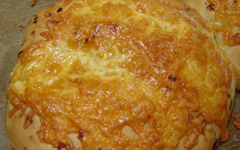 Cheese, Mustard & red Onion Whirls
White dough spread with Rose Cottage wholegrain mustard, red onion and lashings of mature cheddar cheese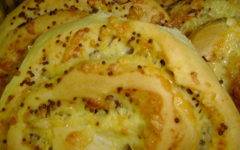 Chick Pea, Coriander & Cumin
A fragrant white bread with chick peas, crushed coriander seed and cumin topped with cracked coriander seeds.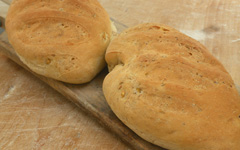 Chilli Cheese
A taste experience to savour, a white bread with mature cheddar cheese and hot chilli flakes topped with more cheese, a great tear & share bread.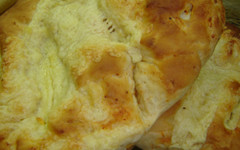 Courgette, Spring Onion & Chive
A white dough with Courgette, Spring Onion & Chive and lots of olive oil and topped with more of the same, lovely warmed with soup.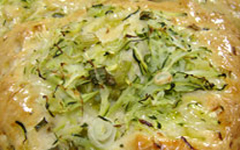 Garlic & Rosemary Focaccia
An Italian style bread with a generous amount of extra virgin olive oil studded with garlic and sprigs of fresh rosemary and a sprinkling of Maldon sea salt.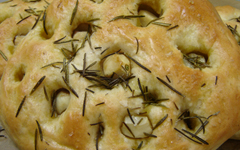 Goats Cheese & Basil Cornbread
The great mix of goat's cheese, fresh basil and a little hint of chilli needs to be tasted to be believed (contains some wheat flour)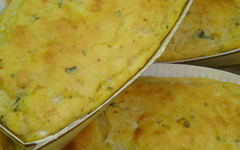 Irish Soda Bread
A blend of wholemeal flour, white flour & buttermilk make this classic Irish bread.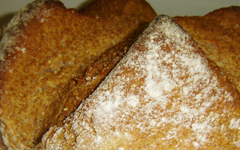 Leek & Bacon
A white bread with soft pieces of fresh leeks and crispy bacon an Ideal savoury snack.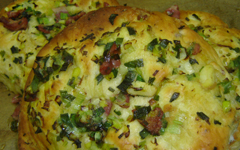 Miracle Bread
We were asked by a customer to make this bread for her from a recipe that she had, it is said to be a good source of phytoestrogens which help with the menopause. A blend of wholemeal, white and soya flour plus the addition of pumpkin, sunflower, sesame, flax and poppy seed with added flax oil.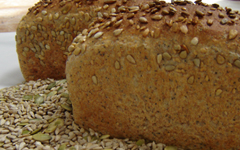 Onion & Walnut
A baton shaped white bread with onions and walnuts rolled in rice flour.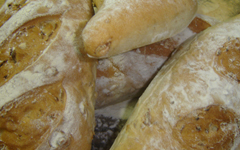 Oatmeal
Wholemeal flour and oatmeal gives this bread a truly Scottish taste.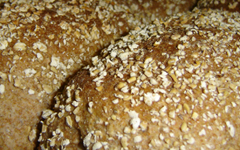 Pain de Campagne
Our wheat sourdough keeps well. sourdoughs are leavened with naturally occurring yeasts without the addition of factory made yeast. Also available Olive, Walnut and walnut & Raisin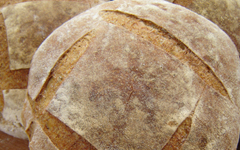 10 Seed Sourdough
A light sourdough with the addition of ten different seeds including coriander, mustard, hemp, sesame, cumin see if you can taste the rest, a different taste with every mouthful. (Contains some commercial yeast).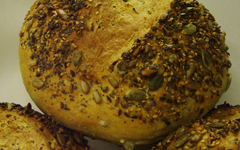 Porcini Mushroom & Garlic
Bags of great mushroom flavour in a focaccia dough topped with mushrooms bathed in garlic infused olive oil.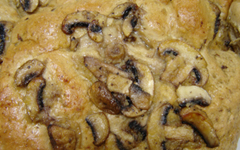 Raisin & Rosemary
A subtle blend of sweet Californian raisins and fresh rosemary has to be tasted to be believed, try it with cheese or toasted with lots of butter.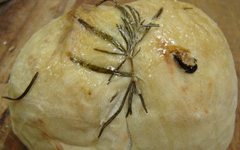 100% Rye Sourdough (Rossisky)
Another wild yeast captured from rye flour fermentation this is real rye bread in the European manner (no added wheat flour).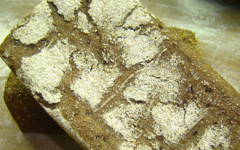 100% Rye Sourdough (Boradinsky)
As above with the addition of molasses, malt extract and coriander seed.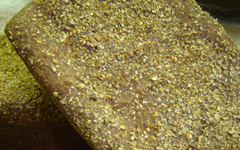 Seeded Wholemeal
Wholemeal is the base for a loaf packed with pumpkin, sunflower, and sesame seed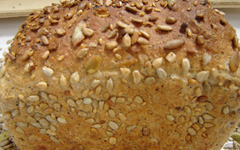 Stilton and Walnut
White dough with lots of ripe Stilton and walnuts, great warm with soup.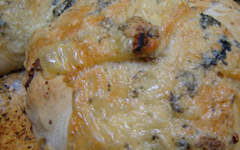 Stilton & Cranberry
A blend of cranberries and Stilton cheese make for an amazing taste savoury yet sweet.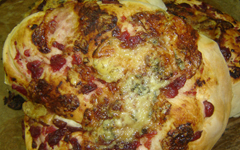 Sunflower & Honey
Wholemeal bread with sunflower seeds and honey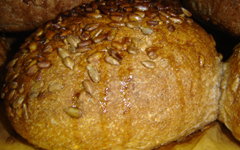 Tomato Focaccia
An Italian style bread with a generous amount of extra virgin olive oil topped with a mix of Italian plum tomatoes and fresh cherry tomatoes.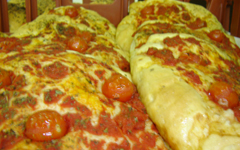 Tuscan Sage
A white dough. Enriched with olive oil and flavoured with fresh sage leaves, topped with crushed black peppercorns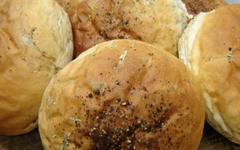 Caramelised Onion and Garlic
White foccoccia with chunks of fresh caramelised onion and really garlicky company garlic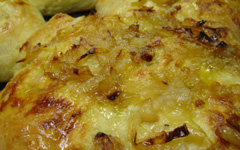 Fennel and Raisin
White bread shaped in a ring with fennel seeds and juicy californian raisins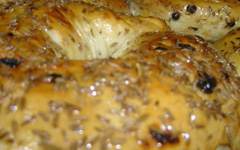 Spelt
Wholemeal spelt flour is an ancient grain sometimes found to be more digestable than wheat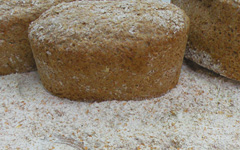 Challah
A slightly sweet bread enriched with free range eggs.